Data source: Wind, China Commercial Industry Research Institute
In 2019, the fastener industry encountered various challenges and difficulties. The impact of the Sino-U.S. trade war was apparent, and exports declined significantly; international trade frictions increased and corporate exports were blocked; raw material prices remained high and production costs increased; environmental monitoring With greater efforts, many companies are required to rectify, relocate, and even shut down; factors such as high overall costs in all aspects restrict the companies from further expanding production and exports. In 2019, China imported 267,000 tons of standard steel fasteners, a year-on-year decrease of 15.87%, and the import value was US$2.839 billion, a year-on-year decrease of 11.84%.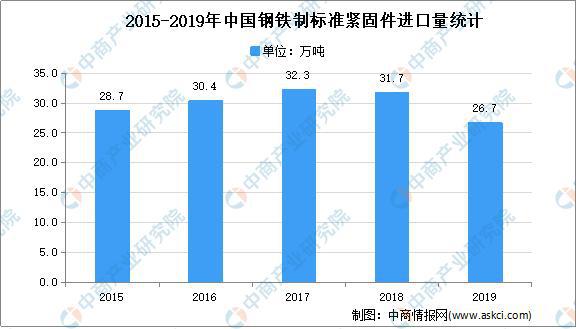 Development trend of industrial fastener industry
   1. Intelligent
  Intelligent manufacturing is a new manufacturing mode of fasteners, and is the inevitable result of the development of automation, digitization, networking and intelligence in mechanical manufacturing. With the continuous increase of labor costs, the continuous improvement of product quality requirements, and the increasingly prominent demand diversity, the fastener industry has an increasingly urgent need for intelligent manufacturing. Intelligent manufacturing will greatly improve the production efficiency and benefits of fasteners, reduce labor costs of enterprises, improve the working environment and labor intensity of workers, and improve product quality and reliability.
2. Fusion
   Fusion is the cross fusion of multiple disciplines, and the combination of multiple processes is the trend of the new era. The integration of mechanical manufacturing technology and information technology and various high and new technologies, the integration of machinery and materials, and the integration of technology and culture will continue to inject new vitality into the development of fasteners. The application of fusion technology will produce new fastening components, manufacturing processes, processing equipment and systems, greatly enriching the product system of fasteners and expanding product functions.
3. Supernormalization
With the expansion of people's living space and the rapid development of technology, the requirements for fasteners are getting higher and higher. Fasteners used in the state of extremely large, small, ultra-high temperature, ultra-low temperature, ultra-high speed and ultra-low speed The demand for these fasteners is increasing, and the technology of manufacturing these fasteners is very different from ordinary fasteners. In the future, ultra-precision manufacturing, ultra-high-performance product manufacturing and ultra-normal forming processes will be a symbol of the level of fastener manufacturing, and will also become the key research and development direction of high-end fastener manufacturers.